High school students experience high levels of stress and anxiety in school, at home, and with peers.
The goal of the program is to provide high school students with new ways to cope with stress and enhance their self-regulatory behaviors.
5 weeks in length
Taught for 15 minutes/day at the start of class
Lessons led by a trained classroom teacher or school staff member
Skills: Mindful meditation, mindful movements, breathing techniques, and application of skills to everyday life
Stress and coping
Breathing and body movements
Pleasant and unpleasant feelings
Thoughts about the self and others
Relationships with self and others
What types of instructional materials are included in the program?
Multimedia Classroom Presentations

Teachers or school staff can participate in a one-day, in-person training with the developers. Contact iRT for more information.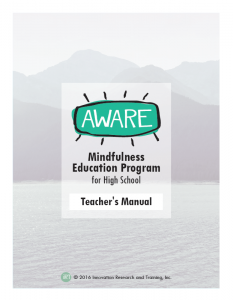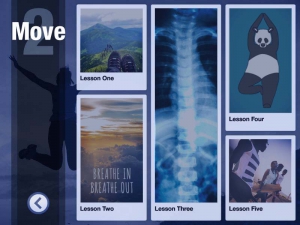 What was the process used to develop the program?
The content and functionality of the Aware program was developed with experts in the fields of mindfulness, adolescence, and stress and coping. High school students and teachers also participated in focus groups. The development and evaluation of the program was funded by the Eunice Kennedy Shriver National Institute of Child Health and Human Development (NICHD).
I would like to teach this program to my students twice a week instead of every day. Is that possible?
Yes! Teachers can implement the lessons on a different schedule. However, the findings from the pilot study are based on the delivery method of teaching the program daily to students.
Does it work?
A small pilot study was conducted in six high school classrooms. High school students who participated in the Aware Program, compared to those that did not, experienced reductions in their aggressive behavior as reported by teachers. Students, on average, reported that after participating in Aware, they were able to better pay attention and stop and think before acting. Teachers, on average, reported that they enjoyed teaching the program and that it was easy to prepare and teach.
This project described was supported by Award Number R43HD068093 (PI: Parker) from the Eunice Kennedy Shriver National Institute of Child Health and Human Development (NICHD). The content is solely the responsibility of the authors and does not necessarily represent the official views of the National Institutes of Health.