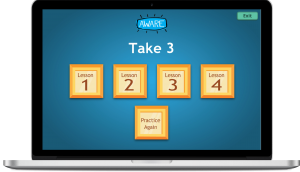 The Aware Program
Program is currently in development
Teens with 22q11DS tend to experience high levels of anxiety as well as challenges in social situations.
There are only a few behavioral interventions specifically for this population of youth.
The Aware Program is designed to teach teens new ways of identifying and managing difficult emotions and stress to help enhance their daily functioning.
A new mindfulness skill is taught in every lesson.
Each lesson contains 4-5 sections, with each lasting approximately 15 minutes.
After each mindfulness skill is explained and demonstrated, teens are given many opportunities to practice the skills.
The program includes videos of teenagers using mindfulness skills in coping with stressful or challenging real-world situations.
The entire program takes about four hours to complete.
Topics focus on awareness of bodies, feelings, thoughts, and relationships.
Simple navigation and instructions
Minimal text
Multiple forms of media (audio, animation, video)
Interactive activities and games
Numerous opportunities to practice
Videotaped real-world scenarios
Courses are self-paced and presented in short 15-minute lessons
Hear more about the Aware Program!
What was the process used to develop the program?
The content and functionality of the Aware program was adapted from the existing online Aware program for teens with Fetal Alcohol Spectrum Disorder (FASD). The newly adapted Aware Program was created with experts in the fields of mindfulness, 22q11DS, pediatrics, and neuropsychology, as well as teens with 22q11DS and their parents. The development of the new program was funded by the National Institute on Disability, Independent Living, and Rehabilitation (NIDILRR).
Is this program relevant to my teen?
Teens and their parents participated in interviews to review and share feedback on the program. This feedback was used in the development of the program. In addition, a number of teens and their parents shared examples of situations that were stressful or anxiety-provoking for teens with 22q11DS. Some of these situations were added to the program to ensure that it would be relatable to teens with 22q11DS.
Can my teen use the program independently?
Yes! The program was designed for your teen to complete it independently. However, teens can definitely benefit with the support of a caregiver or another adult.
Is this developmentally appropriate for my teen?
The program was developed for adolescents with 22q11DS with the chronological ages of 13 to 18. The neurodevelopmental abilities of adolescents were taken into account during the development of the program.
This project described was supported by Award Number 90BISA0016-01-01 (PI: Parker) from the National Institute on Disability, Independent Living, and Rehabilitation (NIDILRR). The content is solely the responsibility of the authors and does not necessarily represent the official views of NIDILRR.