Sometimes teens act without thinking first.
Adolescents' impulsivity can result in accidents, or doing things that are unhealthy, such as smoking or drinking when the substance is offered by a peer.
These types of problems are common concerns of parents or guardians of youth with FASD or youth who have other intellectual disabilities.
The Aware Program is designed to enhance adolescents' abilities to regulate their emotions and make healthy decisions.
A new mindfulness skill is taught in every lesson.
Each lesson contains 4-5 sections, with each lasting approximately 15 minutes.
After each mindfulness skill is explained and demonstrated, teens are given many opportunities to practice the skills.
The program includes videos of teenagers using mindfulness skills in coping with stressful or challenging real-world situations.
The entire program takes about four hours to complete.
Topics focus on awareness of bodies, feelings, thoughts, and relationships.
Simple navigation and instructions
Minimal text
Multiple forms of media (audio, animation, video)
Interactive activities and games
Numerous opportunities to practice
Videotaped real-world scenarios
Courses are self-paced and presented in short 15-minute lessons
Learn more about the Aware Program
What supports are offered to parents or caregivers?
Caregiver Guide

Contains an overview of the program
Includes strategies to support their teen's participation

Online, shortened overview of each lesson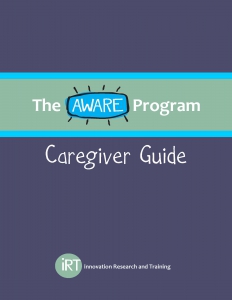 What was the process used to develop the program?
The content and functionality of the Aware program was developed with experts in the fields of mindfulness, FASD, and neuropsychology, as well as teens with an FASD and their caregivers. The development and evaluation of the program was funded by the National Institute on Alcohol Abuse and Alcoholism (NIAAA).
Does it work?
Yes! A randomized controlled study of the program was conducted with adolescents with FASD and their caregivers. For details on our findings, please visit the Research page.
Can my teen use the program independently?
Yes! The program was designed for your teen to complete it independently. However, some parents have opted to complete the program with their teen- whatever works best for you!
I am a therapist, can I buy this program to use with my clients?
Yes. The program was designed to be used independently by a teen with support from an adult. The findings from the evaluation
study are based on this delivery method.
Is this developmentally appropriate for my teen?
The program was developed for adolescents with FASD with the chronological ages of 13 to 18. The neurodevelopmental abilities of adolescents were taken into account during the development of the program.
This project has been funded in whole or in part with Federal funds from the National Institute on Alcohol Abuse and Alcoholism, National Institutes of Health, Department of Health and Human Services, under Contract No. HHSN275201300008C.